Company Drivers
Do I Have to Own a Truck to Be in the Trucking Business?
Did you know that as of 2019 there are almost 38 million trucks on American roads and registered for business use? Trucks provide powerful, efficient, and invaluable transportation services across the entire country. Whether transporting goods across the country or the city, trucks ensure smooth and reliable deliveries. They affect nearly every aspect of our daily lives.
But if you want to get into this lucrative industry, do you need your truck to do so? This guide will help you discern if you need to invest in trucks and a trucking license before you start your company.
Do I Have To Own a Truck to be in the Trucking Business?
Let's get the headline question out of the way first. Do you need to own your truck to get into trucking? The short answer to this question is quite simple; no, you don't. You can enter the trucking business without owning a truck and still be highly successful. There's no real reason for you to own your truck, to begin with, unless you're planning on driving as well as managing your company. You should however consider writing a business plan before you start.
Now you know that it's possible, do we recommend that you don't purchase your truck before starting your trucking business?
Should I own a CDL Before I own a trucking company?
A CDL is what's known as a Commercial Driver's License. If you're planning on getting into trucking, it's of paramount importance that you understand what this particular license is.
This is because it's one of the most important licenses and permits around in trucking today.
If you'd like to learn more about a Class A Driver's License, in particular, make sure to read through our previous blog post. But is it necessary to own one if you're looking to start your own company? The truth is, not always. You'll only need a CDL if you're the one who's going to be behind the wheels of your truck. If you're hiring drivers to handle this part of your business for you, then there's no reason to have your own CDL. You can stay in the office whilst your employees fill out their own CDL paperwork.
Now that you know these logistics, you should be prepared to start your own trucking company yourself. But as a potential new business owner managing truck drivers, what costs should you expect to be involved with your business?
What Start-up costs are Involved If I Want to Start a Trucking Business?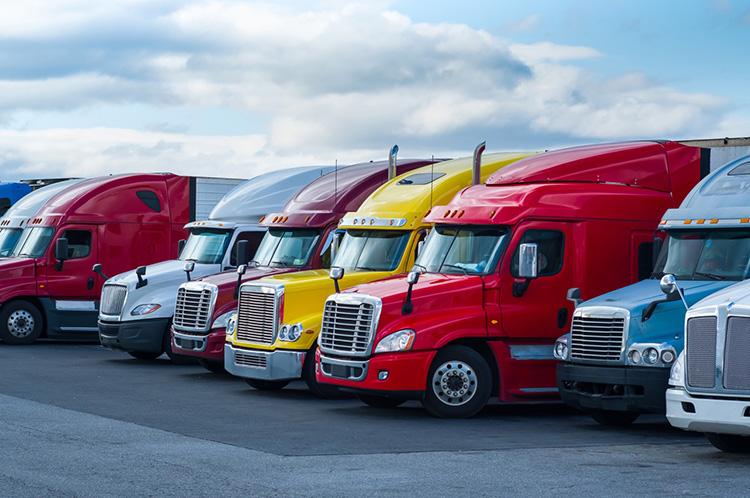 When starting any business like limited liability companies LLC or other formations, there are going to be some start-up costs you need to take into account. Some of these are similar to starting other small businesses, but some are unique for those looking at starting a trucking company. But with starting your own trucking or becoming a process agent, these costs can be a little higher than in other businesses since there's more expensive equipment involved.
You'll need to factor in the cost of renting or leasing office space, hiring employees, and purchasing trucking software for starters. These are the general items you should expect to need when managing your trucking company.
But with the trucking industry, in particular, there are a few more things you'll need to factor in before you start your business. These include the cost of your truck itself or going through truck financing. Or, if you're planning to start a huge trucking business right off the bat, this means the cost of your fleet. You also need to factor in initial costs for fuel which is also a running cost alongside maintenance.
You should also have an emergency fund set up for unexpected repairs or accidents. It's wise to set this aside before you start, in case anything does go wrong. This also means you'll have an initial cash flow to draw from in your business through your early investment. This can help you get started in the business before you find loads and makes the process of establishing a company less stressful in the long run. Now that you know all this, it's time to get acquainted with your prospective employees and their roles. First, it's important to understand what a truck operator is and what their job entails.
What is an Owner/Operator Truck Driver?
A driver to owner operator or Owner/Operator Truck Driver is somebody who owns their truck and drives it for themselves. This is why they're designated as an 'owner' truck driver, rather than a company driver which we'll get to below. They're usually responsible for the maintenance of their truck and sometimes have to pay for their fuel as well. In some cases, they will lease their services out to another company in the short term. In some other cases, they might also be hired by other companies to drive their trucks for a certain period. But the crucial difference is that they own their truck and are responsible for it at all times. You'll also need to understand what a company truck driver is before you start establishing your own trucking business.
What is a Company Truck Driver?
A Company Truck Driver is somebody who works for a trucking company and drives one of their trucks. They don't usually own the truck they're driving, as it's owned by the company they work for. But, in some cases, they might be responsible for the maintenance of the truck. This all depends on the company's rules and regulations. If you're managing your own business, then you'll normally be managing a group of company truck drivers for yourself. This is why it's important to narrow down what your rules for your truckers will be before you start building your company. There are some notable differences between owner truck drivers and company truck drivers that you'll also need to bear in mind.
What Are the Main Differences Between an Owner Truck Driver and a Company Truck Driver?
The main difference between an Owner Truck Driver and a Company Truck Driver is that the former owns their truck while the latter doesn't. As above, this is what sets these two roles apart from one another in general and concerning operating authority, but there are other differences to consider. Another big difference is that Owner Truck Drivers are usually responsible for the maintenance of their trucks. This isn't always the case for Company Truck Drivers, because as noted above this depends on the rules of the company they work for.
Lastly, Company Truck Drivers usually must adhere to stricter rules and regulations set by their employers, and you'll need to manage them directly.
Owner Truck Drivers, on the other hand, have a bit more freedom since they're self-employed.
It's important to understand this difference if you're looking to work with both owner and company truck drivers. You need to change your approach to each, to respect their position as either employed or self-employed individuals. To better understand which is best for your business, you'll finally need to understand the pros and cons of each type of employee.
What Are the Pros and Cons of Company Drivers and Owner Truck Drivers?
As a business owner, you need to evaluate what's best for your company. This fact remains true when you're managing your own trucking business. In trucking, managing your truckers is one of the hardest jobs you'll have. Therefore it's vital to understand the pros and cons of each type of employee before you start.
Let's start with the pros and cons of company truck drivers:
Pros of Company Drivers
They're usually cheaper to employ than Owner Truck Drivers.
There's less paperwork involved in hiring a Company Driver because they're treated as an employee.
You'll have more control over things like their work patterns and what they need to do in your business.
They'll likely be more committed to your company since they are fully employed by you.
Cons of Company Drivers
They might not be as experienced as Owner Truck Drivers, who have likely been trucking for years.
You'll be fully responsible for their truck and other costs like fuel and maintenance.
Now, let's cross-examine this with the pros and cons of Owner Drivers.
Pros of Owner Drivers
You don't have to worry about things like fuel or truck maintenance, as this is their responsibility.
They're used to working on a self-employed basis, which means they can be more independent and reliable than company drivers.
Cons of Owner Drivers
You'll have less control over what they do in your company since they're self-employed.
They'll likely not be as committed to the success of your business since they're not fully employed by you.
It can be more expensive to employ Owner Drivers.
You must weigh up these pros and cons before you start your hiring process. Choosing between these two options can be the most important decision you make in your business's early stages (more than deciding whether to engage in transloading, or other trucking matters), so it's important to get it right. It's entirely possible to hire a combination of these two types of truckers when you start. But if you hire only owner drivers, you won't have to own your truck at all.
Where Can I Find Out More About Starting a Trucking Business?
You should now know that you can start your own trucking business without owning a truck.
If you're looking to do so, however, it's important to get advice each step of the way. Make sure to contact our experienced team if you have any questions, and we'll be more than happy to help.