7 Benefits of Having a Commercial Warehousing Storage Supplier
Did you know that, according to GlobeNewswire, the warehousing and storage services market should see a compounded annual growth rate of 10% between the years 2021 and 2026? Additionally, its revenue in the US in 2019 was $36.6 billion. 
Considering how many businesses operate online without an office or warehouse of their own to store their products, these statistics regarding the business storage solution market make sense. 
If you're considering using this solution, you might not be sure about the investment. This can be stressful, considering how many business decisions you have to make every day. That's why we've put together this article. You'll learn about the many benefits of having a commercial warehousing supplier. 
Finally, you can choose the right storage solution for you and run your business more successfully than ever. 
Benefits of Having a Commercial Warehousing Supplier
For many types of businesses, there are a variety of benefits that come from having a commercial warehousing supplier. By having a solution that helps with logistics, distribution, storage, and procurement, your business will have increased productivity and workflow. 
Expansion Opportunity
When you don't have the restriction of space within your own office or storage area, you aren't limited physically, which means there's always additional room available in the storage space for new products. 
As you grow your business and create more products, you won't have to worry about where to store excess inventory. You simply expand the amount of storage space you need as your business expands and offers new products. 
Production Support
Depending on the type of product you're selling, a storage solution supplier can offer production support. They can incorporate their services by helping you put together your products in the storage area itself, ensuring each component works and is assembled properly. 
Price Stabilization
Business and commercial storage also facilitates price stabilization. This is because you can store your products whenever supply is greater than demand, releasing the product again when demand goes back up. 
Processing and Packing
A commercial space storage solution is more than a place to store your products outside of your office. Many of these services will also handle processing and packaging, handling the logistics of shipping and packaging branding solutions for you. 
Minimization of Business Risk
When you store your inventory in a storage solution supplier's warehouse, it's covered by their insurance. As a result, if there is inventory loss as a result of damage, fire, theft, or other similar reasons, you'll be covered. This minimizes your business risk. 
Variety of Storage Types
Many different storage types are available with a business storage solution. Options include retail inventory, vehicle storage, home staging, and even climate-controlled units for businesses that need to keep their food fresh in storage. 
When renting a storage unit, you also have many options when it comes to unit size, and the ability to have drive-up storage units. 
Flexible Access Hours
When you're renting a storage unit, you have flexible access hours. Often, 24-hour access is possible. Additionally, sales rep availability is high, and delivery acceptance can happen during many hours, making the logistical side of storing your products easier for you. 
Is Commercial Warehousing and Storage Right for Your Business?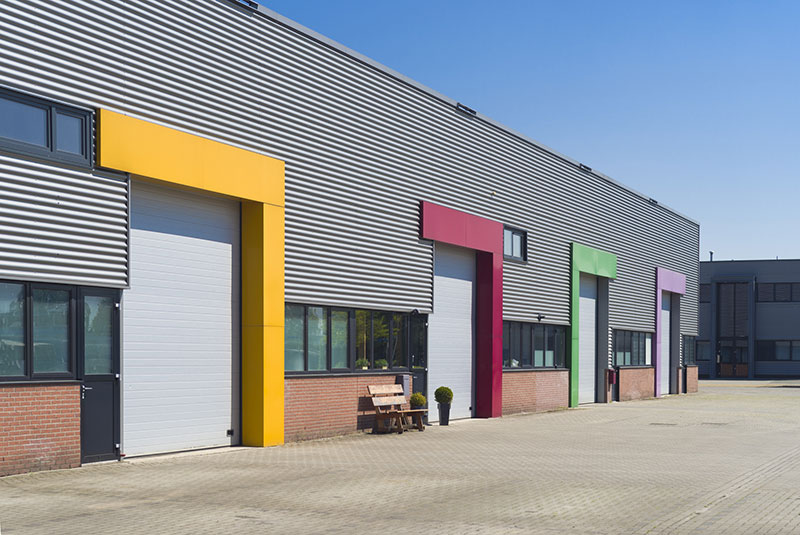 If you run a small business and ship out items in small numbers, then commercial warehousing and storage might not be right for you. However, in almost any other situation in which you have storage or shipping needs, it's a good solution for your business. 
In addition to the benefits listed above, there's the biggest benefit of all: having a space to store your items, ready to go whenever anyone makes an order. This doesn't just simplify things on your end – it also ensures your customers receive the right order, faster, which means they're more likely to order from you again. Over time, your business will run more smoothly and more orders will come in, making your business more successful. 
Common Commodities and Items Used in Business and Commercial Storage
Common commodities used in business and commercial storage include raw materials that are used for the manufacturing of finished goods, such as gold, coffee beans, wheat, crude oil, and copper. Any parts used to create your final product would also be commodities. 
As for items used in commercial and business storage, these include final goods or consumer goods, such as durable consumer goods like jewelry, furnishings, and appliances. They also include consumable goods, such as tobacco products, groceries, and gas. 
What Types of Businesses Can Benefit From Commercial Storage?
Businesses in the hospitality sector, such as hotels and restaurants, can benefit from commercial storage. They'll have somewhere they can store food, towels, slippers, silverware, plates, and other products their customers use. 
Offices can also benefit, as they'll have a place to store electronics and furniture. Decorators and furniture stores can store furniture, décor items, and house props. Small businesses and retailers will be able to store a large number of products, ready to be shipped, in commercial storage.  
Finally, construction companies can store their equipment as well as building materials in a commercial storage space. As you can see, a large number of businesses in a variety of industries will benefit from having commercial storage. 
What  to Consider Before Engaging Commercial Warehousing Partners
There are several things you need to consider before engaging commercial warehousing partners. First of all, you need to consider location. The warehousing partners you engage with should be in an area near your customers so you can deliver to them fast. 
You should also consider their experience. If it's a newer warehousing business, they might not have the experience with logistics, packaging, and shipping to manage your needs efficiently. Experience specific to your industry is also important to think about, especially if you're storing goods that require special storage. 
Protocols and processes are also something to consider. If the warehousing partner doesn't have a set-out process or protocol for storage, packaging, and shipping, this is a red flag. Put together a list of questions regarding what you're looking for and choose a company that has processes that meet these needs. 
Risk mitigation is also something to think about. The commercial warehousing storage solution supplier should have information regarding their incident rates and safety plans. Additionally, having their own insurance coverage is necessary. 
Finally, you should ask about availability. Will there are always be someone on call to answer your questions regarding storage space or delays with shipments? Depending on your business needs, you might want a partner with 24/7 availability. 
Costs and Storage Plans 
You also need to consider the costs and storage plans available through the commercial warehousing partner. Do they charge weekly, month to month, or every year? Do they offer any discounts on extended coverage? 
You should also research whether there are any additional fees, such as an administrative fee for logistics. Sometimes, in addition to the storage rate, there are additional fees for extra services. Specialized storage, such as larger areas for larger items or refrigerated spaces, might also cost an additional amount. 
Once you have an idea about the different costs and storage plans available, you'll have a better idea about which commercial warehousing partner is best for your business. 
How Commercial Warehousing Reduces Your Costs
Commercial warehousing reduces your costs in a variety of ways. First of all, you'll have lower labor costs, as you won't have to pay for someone to manage the logistics of storage and shipping—or hire someone to ship the products to your customers. 
Second, you'll have fewer errors when it comes to shipments. These can be costly, with the fixing of errors and the potential loss of clients. 
Looking for a Warehouse Storage Solution? 
Now that you've read about the benefits of having a commercial warehousing storage solution supplier and know if it's the type of service that can help you run your business and make more money, you might be looking for a business storage solution. 
If this is the case, look no further than Carroll Trucking. We're experts when it comes to business storage, and we can help you with all of your warehousing needs. To learn more about our warehousing space services available in Norfolk, Virginia, contact us now.