Why Choose Carroll Trucking Norfolk Warehousing Needs?
Warehouses are the backbone of any flourishing retail company. Carroll Trucking has been a leader in Norfolk warehousing for decades. If you're looking for logistics and warehousing services in Norfolk Virginia, Carroll Trucking is here to help. We offer a wide variety of storage solutions to meet your needs. Whether you need short-term or long-term warehousing, we have the space that will fit your budget and requirements.
We have over 150,000 square feet of warehouse space, which is more than enough to meet the needs of any retailer. What's more, our warehouse offers quality storage and logistics services at competitive prices. To learn more about why you should choose Carroll Trucking for your Norfolk warehousing and trucking needs, keep reading.
Common Warehousing Challenges
The grounding of the mammoth cargo ship Ever Given in the Suez Canal is a stark reminder of the vulnerability of the supply chain. The ship was run aground for nearly a week. This isn't the first time there's been a problem with this major global shipping route. Since the opening of the canal, there've been five major blockages.
Today, a blockage Suez Canal equates to $10 billion and delayed cargo every day. This scenario was devastating for just-in-time retailers. Nevertheless, just-in-time retailing offers phenomenal benefits. It helps companies save on costs. With just-in-time retailing, businesses can operate lean and mean with less inventory.
The vulnerability of the Suez Canal emphasizes the importance of strengthening your supply chain. Likewise, the pandemic was a sharp reminder of how important it is to have your logistics ducks all lined up. Today's lean companies must remain resilient—no matter the circumstances. Fortunately, Carroll Trucking can help. Located in Norfolk Virginia, we offer quick delivery and turnaround time. What's more, we offer the best of both worlds with an extensive selection of services that we can tailor to meet any need.
Common Specifications Related to Warehousing with Carroll Trucking in Norfolk, VA
It's important to develop an overall strategy for logistics. In doing so, you can provide a buffer against supply chain breakdowns and uncertainties. With this in mind, it's important to think of warehousing as more than a place to store inventory. Instead, it helps to think of your warehousing partner is a dynamic service provider. We can provide you with a range of distinct but complementary activities.
Furthermore, high-quality warehousing will ensure the physical integrity and safety of your goods. Our more than adequate working space and infrastructure will protect your commodities from harm. Proper procedures will ensure that your goods are always available and accessible. What's more, these policies will ensure that they stay in great condition.
Why You Need to Choose Carroll Trucking for Your Norfolk Warehousing Needs?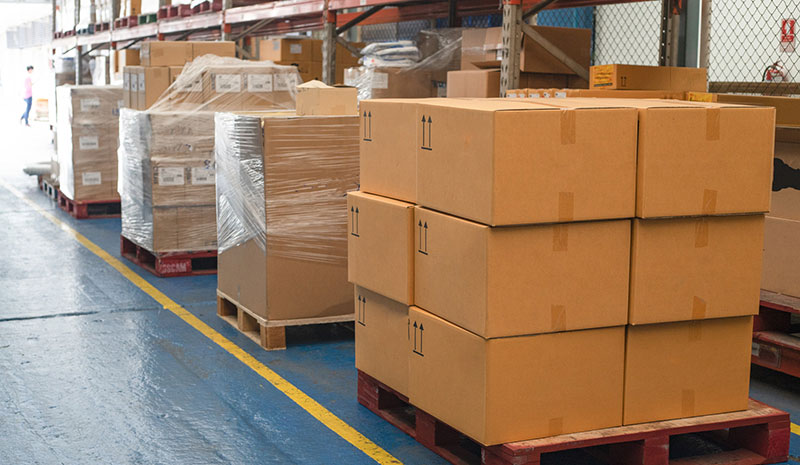 Carroll Trucking offers convenient warehousing services for Hampton Roads, Virginia clients. Our warehouse and distribution center is conveniently situated near the Port of Virginia. Again, we offer 150,000 square feet of storage space. Resultantly, we make it easy for you to safely and securely store your shipments.
Our capable and reliable team is always ready to handle your goods with maximum efficiency. In addition, we offer cost-effective pricing and flexible terms. You can take advantage of either our short-term or long-term storage solutions. Our available plans enable you to store goods for any amount of time needed. Moreover, we offer a full-service solution. With Carroll Trucking, you'll have access to our trucking, cartage, warehousing and drayage services. We can handle your shipments from end to end.
In addition, we own every piece of equipment that we use. All our equipment meets our discerning standards. More importantly, full ownership of our equipment reduces costs for our retail partners. You may have goods arriving by truck, ship, rail or flight. In any case, we can safely handle the pickup and delivery of your goods. We can also manage your warehousing and distribution needs. For this level and variety of service, there's no better choice than Carroll Trucking Norfolk.
The Various Warehousing and Distribution Jobs We're Capable Of
As per our namesake, Carroll Trucking offers logistics services. However, we also combine that service with warehouse operations. Our warehouse is state-of-the-art, efficient and secure. Our logistics service enables us to help you manage your flow of goods from beginning to end. We offer transloading, trucking and cartage services.
We combine that with our warehousing operation. Whether you need inventory management, order processing or load picking, we've got you covered. Collectively, our services are a full solution for stress-free supply chain and warehouse management. What's more, we've earned a reputation for delivering on our promises. The following entries offer a closer look at our available services.
Public Warehouses
Retailers can lease or rent our public warehouse space. Multiple retailers share the space. By sharing space, retailers have access to flexible pricing. Furthermore, we can adjust pricing as your needs change.
Many startups and small businesses start out using our public warehouse space. In some cases, however, a larger company will choose public warehousing to manage surplus and overflow inventory. It's a considerably cost-saving measure. Also, new retailers are most likely unsure of their ongoing warehousing needs. Accordingly, they can rent public storage space and expand as needed.
Contract Warehouses
With Carroll Trucking contract warehousing, we manage shipping, receiving and storage of your goods based on your contract. Your contract provides you with a specified amount of space. It also lasts for a predetermined duration. With contract warehousing, you can fix your logistics costs. It's an excellent solution if you have established warehousing needs.
Alternatively, you may have continually changing warehousing requirements. In that case, you might find that public warehousing is a better option for your needs. It's a more flexible option that allows you to pay on an "as-needed" basis.
Distribution Centers
At Carroll Trucking, we also provide distribution services. Our distribution center delivers large amounts of products for retailers. This service is a short time, just-in-time option. The length of time that goods remain in our warehouse varies. Some shipments may only stay in our house for less than a day.
This kind of arrangement is critical for retailers' supply chains. It allows us to receive products and large amounts. We can then distribute those goods, for example, to retailers' various locations quickly. We can even pick your loads and distribute them to other warehouses. Whatever your need, Carroll Trucking can fill it.
Other Services Related to Warehousing & Distribution
Carroll Trucking also offers other valuable logistics services. For example, you can take advantage of our years of experience in trucking. We make getting your goods from point A to point B easy. We'll help you move any goods that you desire in the continental United States.
You can also take advantage of our in-house transloading service. Transloading is a new way to enjoy cost savings. With it, you can ship your goods from one mode of transportation to another affordably. Furthermore, our team will safely transfer your product from one container to another to minimize costs. With this in mind, we can also assist you with intermodal logistics. By combining drayage, trucking and cartage services, we can help you move your goods from start to finish.
The Benefits of Having Carroll Trucking Handle Your Transloading and Warehousing Needs
If you manage a large amount of inventory, logistics is most likely the toughest part of your job. It takes a lot to manage the physical delivery of all your goods to the right places. When it comes to logistics, there's no room for error. One wrong move can cost you a lot of money. Carroll Trucking can provide you with an accurate and efficient logistics operation.
We're logistics experts. We know the field and how to execute distribution plans flawlessly. Without the right partner, logistics can turn into a nightmare. We're a skilled and experienced service provider. Together, we can build an optimized operation for your retail business. Eventually, successful retailers grow to the point where they need a partner in logistics. We're here to help.
Seamless logistics is critical for any retail operation. We can help you to fill gaps in your logistics model. As experts at warehousing in Norfolk, we take a consultative approach to logistics. We'll work with you to develop a comprehensive strategy and then execute it impeccably. Along the way, we'll look for opportunities to improve your operation.
The Top Local and Regional Logistics Provider
Now you know why you should use Carroll Trucking for your Norfolk warehousing and trucking needs. We have the resources and experience to ensure that your retail logistics operation succeeds.
For more than 50 years, Carroll Trucking has worked tirelessly to become the top logistics provider in Norfolk VA. Today, we're a one-stop-shop for all your transportation and logistics needs. We're proud to offer a full range of comprehensive logistics services. What's more, we value our customers.
Over the years, we've built strong partnerships based on integrity. Our strategic solutions will provide you with top-quality service and a logistics environment that can change in an instant. Contact Carroll Trucking today at (757) 853-1170 to learn more about forming a logistics partnership that will empower your retail operation to grow. Alternatively, feel free to connect with us online.