Quality Warehousing Facility
What Features Should You Have With a Quality Warehousing Facility?
In the second quarter of 2021, American e-commerce retailers made $222.5 billion. As online retailers grow, so does the need to store and distribute each digital retailer's physical goods. As an entrepreneur in the digital space, you might seek high-quality warehouse facilities. There are many options to parse–both here in Virginia and internationally.
In this guide, discover what features and services make a warehouse excellent. Then, discern among warehousing options to find the right storage service for you. Short-Term-Hold services are one type of opportunity.
What is a Short-Term-Hold (STH) or Short Hold Storage?
"Short hold storage" describes storage options for ninety days or fewer. Typically, a warehouse offers STH to clients who need to move merchandise quickly. It also benefits those who alter their inventories frequently.
Short Hold: Cross-Docking
Cross-docking is a specific type of STH that holds the product for less than a day or two. The warehouse dock is essentially a "pit stop" in a supply chain. This can be where a truck unloads a large quantity of freight. Then, haulers quickly load the freight onto multiple trucks, headed for multiple destinations.
Or, you might use a warehouse to facilitate cross-docking in the opposite direction. STH storage can consolidate cargo from multiple sources into a single shipment. The warehouse can hold each product until the full shipment is in.
Short Hold: Self-Storage
Self-storage is a specific sub-type of STH. Self-storage units offer month-to-month contracts. But, these facilities are not designed for commerce. The benefits of a warehouse, even in the short term, dramatically outweigh the benefits of self-storage in a supply chain.
Top Eight Warehousing Facility Features
When you compare warehouse facilities, don't simply choose the most cost-effective option. Instead, look for features that elevate a warehouse to a high-caliber service. The best warehouse facilities integrate measures, tools, and processes that maximize product safety. They also keep storage and distribution running smoothly. Here are the top eight features to look for.
Safety and Security Measures
Safety and security measures protect goods from theft, damage, and destruction. These measures begin with thorough background checks on all hires. Then, the facility should train staff on safe movement and handling. Staff should be periodically tested on training materials. The best facilities go above and beyond minimal OSHA compliance.
Excellent storage facilities invest in high-end security systems. These incorporate identity authentication systems, strategic camera placement, and timed lock mechanics. Pivotally, top-tier storage facilities employ full-time security staff. These staff members prevent attempted break-ins.
They're also well-trained in evacuation protocols should a fire or flood occur. These warehouses take out fire and flood insurance to protect client assets in case of an emergency.
High-Quality Staff Training
The best storage services train staff well. These facilities emphasize safety, communication, and efficiency protocols. This lets staff do a good job quickly, without inadvertently interfering with one another's' tasks.
Ask about a facility's training practices before contracting. Learn how the facility handles staff who do not or cannot follow protocols. And, discover the facility's approach to teaching best practices.
Easy Access (Transportation and Distribution)
Ideally, a warehouse is easy to access. It will have ample parking for staff, and well-designed loading and unloading zones. There should be enough pickup and drop-off space to prevent a traffic backup. The warehouse should also be conveniently located near a highway. This enables speedy transitions for transportation and distribution trucks.
Efficient, Durable Machinery
A warehouse uses machinery to handle products. Dock equipment enables safe loading and unloading. Conveyors, lifting equipment, and storage equipment empower interior staff.
Typical warehouses have some or all of these machines:
Forklifts
Carousels
Belt conveyors
Dock Levelers
Pallet jacks
Hand trucks
Platform trucks
Walkie stackers
Dollies
Cranes and Hoists
Research current safety and efficiency standards for these machines–including working load limits. Note federal and state regulations. Does the warehouse invest in forklifts in a range of classes? Ask the warehouse how frequently it updates machinery. Consider how the warehouse approaches machine-specific training for its staff.
Established Quality Control Measures
Established quality control measures are critical warehouse features. Organization and inspection practices can be part of these measures.
Ask the facility how they evaluate product quality in storage? How does the facility address potential quality risks?
Optimal Storage Conditions (Environmental Controls)
The best storage warehouses optimize conditions. This starts with design elements. The warehouse's layout must be efficient to navigate, without letting one product risk another. Refrigeration, hazard containment, and appropriate dryness all contribute to the optimal environment. Determine the methods the warehouse uses to keep products stored well.
Efficient Process For Services
Warehouses offer a range of services. Yet, an offer is not enough. The best warehouse develops an efficient process for executing service tasks. Facilities can execute receiving services, fulfillment services, and asset management well or poorly. Ask the facility about its process to ensure high-quality service execution.
Excellent Customer Service
Finally, excellent customer service sets a warehouse apart. Appointed storage space staff should be able to answer questions promptly. And, they should alleviate client concerns. And, customer service should be friendly as well as competent. Expect them to treat you like a guest by your warehouse's customer satisfaction team.
Freight Warehousing Storage: Short Term vs. Long Term
There are a few differences between short-term and long-term storage. The clearest is the length of time. Short-term storage is ninety days or less. Some facilities set sixty days as the cutoff. Long-term storage is longer than ninety days. That difference drives structural design differences.
Critical Services in Warehouse Facilities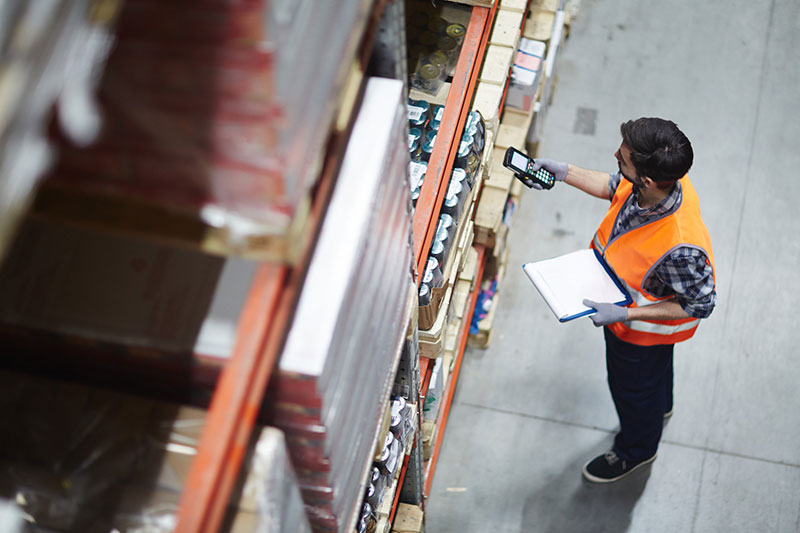 Warehouse facilities often offer extra services. There are four typical service categories. Each incorporates tasks that might streamline–or strengthen–your supply chain.
Default Services
There are three default services in most warehouses. These are receiving shipped goods, storage itself, and basic distribution services. Each service fills a primary warehousing utility.
Receiving
Receiving services unload products and prepare them for storage. Preparation includes verification and inspection. It may involve noting any damage a product accrued in transit.
Storage
Storage maintains the cargo in a known location. It protects the product from theft or damage. To store products, warehouse staff unloads products and maintains them on pallets. Storage might require securement and environmental control options.
Distribution
Distribution services can include cross-docking and drayage. It might incorporate transfer processes to bring in freight from cargo ships.
Atypical Product Storage Services
Some products and materials pose storage challenges. Facilities equipped to meet these challenges will advertise unique warehouse services.
Hazardous Materials
There are nine classes of hazardous materials. Know what class your product falls in. The Department of Transportation runs the Pipeline and Hazardous Materials Safety Administration (PHMSA). Third-party PHMSA trainers can hazmat-certify a facility. Only warehouses with classed hazmat certification can store hazardous materials legally.
Climate-Sensitive Products
Climate-sensitive products may need refrigeration. Or, they might need dry heat. If this describes your product, find a facility that offers climate-sensitive storage services.
Fulfillment Services
When a facility offers fulfillment services, it may market itself as a fulfillment center rather than a warehouse. These services empower an online retailer to fill customer orders quickly and with polish.
Pick and Pack
Pick and pack processes are part of fulfillment. A streamlined pick and pack process makes it easy for staff to get the customer's order, pick the correct product from storage, and pack it in a box to ship. Facilities can integrate effective pick and pack services with inventory management systems.
Labeling
Labeling is one part of fulfillment that streamlines workflow. Labels make it easy for staff to identify the correct item. Some labels integrate barcodes for easy asset management. Some fulfillment centers offer to print labels unique to the client's brand. Employees apply these labels after they pack the product to ship.
Forms and Printing
Forms and printing services can be a huge asset. A fulfillment center may print address labels, product labels, and legally mandatory forms. This saves the client steps.
Delivery
Some full-service fulfillment centers offer delivery services. This solves the last mile problem. Delivery services bring the product from the warehouse to the customer's door.
Asset Management Services
Asset management streamlines the process of creating and maintaining a product. This management prioritizes development resources wisely. It also increases the lifespan of a product with effective, routine maintenance and repair. Operations testing improves the product in iterations. In a warehouse, staff members contribute to effective asset management with context-specific services.
Inventory Tracking (WFID Asset Tracking)
Inventory tracking, or WFID asset tracking, saves time while reducing product loss and theft. These services use beacon technology to triangulate a product's exact location when necessary.
Inspections (Auditing)
Routine product inspections, or audits, keep products secure. Inspection services require staff to note product quality at three points:
Upon receipt
Periodically in storage
Before shipment
Staff will not ship severely damaged products. Instead, they'll notify the client.
Logistics Management (SCM)
Facilities may call logistics management "supply chain management" (SCM). All SCM services streamline the flow of quality goods. Different SCM services benefit different clients. Conduct research to determine if logistic management services can help you.
Full-Service Asset Logistics
At Carroll Trucking, we know warehousing is just one part of a successful supply chain. Yet, we want your whole venture to thrive. That's why we pair top-tier warehouse facilities with full-service logistics. With Carroll Trucking, you'll get all supply-chain management needs met in one step.
We tailor service packages to meet each client's precise needs. Tell us yours, and we'll get you a quote fast.