An Overview of Port Drayage
Everything You Need to Know About Intra Carrier Drayage Solutions
The efficiency behind port drayage is driving the overall market to a growth rate of over 2%.
Your business can't afford to not be involved, or at the very least understand what you're missing out on! Drayage is a logistics term that refers to transporting products across short distances by ground freight. It can help fill gaps in intermodal shipping. It is the vital link in the supply chain that ensures the success of multimodal transportation. Intra carrier drayage is an essential delivery service over small distances. It prevents delays in multi-modal long-haul freight delivery. It is usually a specialized transportation service used to move huge containers by truck, ship, or rail. Understanding the drayage process and its origins will enable you to make the most of your logistical chain.
What Is Port Drayage?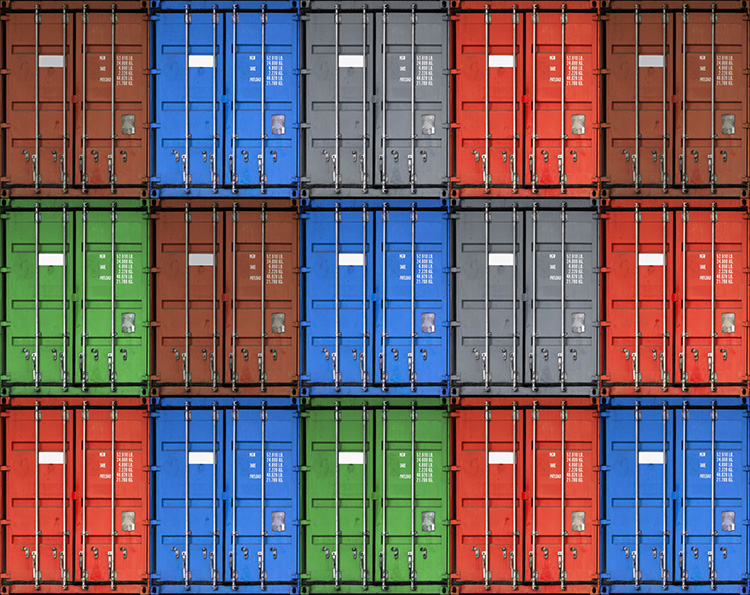 Drayage usually transports shipping items from the port to a warehouse by ground transportation. But port drayage is a little more sophisticated than that. Port drayage connects maritime container ports to consumers, trains, and other infrastructure. Port drayage transport may be required when a shipment arrives at a shipping port. This is when freight moves to a long-haul road service or connects to a different port. Drayage services often involve the transport of shipping containers from ports and warehouses. It carries them to ships, vehicles, or rail carriages. These freight containers are packed with a wide range of commodities by freight transporters.
What Logistics Industries Benefit From Port Drayage?
The local movement of intermodal freight transportation equipment is called intermodal drayage.  This is true whether the equipment is loaded or empty. Intermodal drayage companies employ many modes of transportation. Rail, trucks, and inland waterways are examples of these techniques to get freight from point A to B. Any industry that needs to connect its freight between transport modes can use intermodal shipping (port drayage).
Some industry examples are:
Auto
Cosmetics and beauty
Industrial
>Prefab buildings
Exotic foods (refrigerated containers)
An intermodal drayage service guarantees that a shipping assignment travels smoothly. It transfers items without causing disruptions. And does so by utilizing the logistics network and transportation services inside that network. We are sure that making drayage a priority in your logistics will improve shipping efficiency no matter your industry. Using specialist solutions will also allow you to offload some of the responsibilities of your logistics. The shipping company will take care of it themselves. This will save you time and money.
Can You Track Your Goods in Transit with Port Drayage?
Yes, you can track your goods because the container business relies heavily on port drayage. Every year, millions of drayage trips require for cargo delivery worldwide. It wouldn't make sense for the companies responsible for these connections not to be able to keep track of the freight. It would be a mess. In every step from port to truck or any other mode of transport, you should be able to track your goods. Companies in this industry must be familiar with crucial transportation norms and regulations. Their performance frequently makes the difference between a cargo arriving on schedule or not. They also ensure it's in excellent condition and the loss of perishable commodities in transit. To keep their businesses afloat, they must be reliable.
How Long Does It Take for Deliveries to Get To Their Destination When Using Port Drayage?
You'll find standard delivery hubs in shopping malls. They provide delivery to stores by transporting goods small distances. The term "drayage service" takes over transporting freight from the loading dock to the retailer's location. As a result, businesses are dependent on quick and efficient transportation that connects them to this transit hub. Drayage services operate in the background to preserve the prime conditions for on-time delivery. Even in the brief gaps between many lengthy hauls of transportation. It's hard to put an exact figure on it as many other factors, such as trucking distance and inter-provider delays, come into play. Yet, you should expect an overall decrease in shipping process times by switching to a provider with smart drayage solutions.
Cold Items
Cold chain businesses need refrigerated transportation for frozen items. Items such as ice cream, perishable commodities, and medicinal products. Our drayage services are highly regarded in this area. We can often supply a cooling mechanism while transporting cold items from one mode of transport to another. Plus, less delivery time means less chance of issues arising.
Is Port Drayage a Cost-Effective Option?
There are several benefits to employing intermodal port drayage services. The can include lower prices, more negligible environmental effects, and on-time delivery. Moving products by train and having vehicles carry out drayage to and from the railyard is more cost-effective.
Because of the decreased prices, intermodal drayage between rail and trucks has become a vital element of the shipping sector. Trains have become a viable alternative to long-distance trucks in North America. Rail transportation allows heavier, bulkier objects over greater distances. It also uses less fuel and lowers carbon emissions. Rail transportation also requires fewer drivers.
Why Is Port Drayage So Important?
Drayage is an integral part of the intermodal container transportation sector. It usually refers to short voyages transporting freight from a port to a railhead or a warehouse. Drayage services cover some of the shortest distances in the supply chain. Nonetheless, these short-term visits are sometimes crucial in receiving immediate logistical help. Customers require port drayage services to assure on-time delivery. Many shippers seek the assistance of third-party logistics services. in arranging for this freight transportation service. It's a huge part of the American supply chain. In fact, more than 60 million drayage journeys take place within North America alone each year. Ports of entry, in particular, need significant drayage.
Are There Other Kinds of Drayage?
The bulk of freight passing through the worldwide intermodal freight chain uses drayage services. You can divide drayage services into the following categories:
Expedited Drayage
For time-sensitive jobs, this is the optimum type of drayage. When drayage must be completed as soon as possible, the persons in control favor this procedure. They typically use road freight to carry such services. Usually, these shipments are not transported by the railway system.
Inter Carrier Drayage
Inter-carrier drayage refers to the utilization of both trucks and rail lines to transport containers. It involves many carriers working together to bring the container to its final destination. Short hauls between trucks and the railway system are one example.
Intra Carrier Drayage
When delivering products between two hubs owned by the same carrier, a transportation business usually favors intra-carrier transfer. Containers, for example, may require transportation between an intermodal hub and a railroad station.
Pier Drayage
This technique transports items from a primary rail hub to a pier unit or pier hub using a road transportation unit. It is commonly utilized, but not always, in the export of services. The roadways are used in this strategy to get to the dock.
Shuttle Drayage
Cargo and merchandise might crowd the hubs at times. It might be required for both loaded and empty freight units. Shuttle drayage temporarily relocates some units to a parking or storage location to aid with this.
Door to Door Drayage
This approach delivers containers directly to retail customers, typically using trucks and road networks. Shipping via intermodal drayage accounts for the lion's share of the sector. Shippers should decide which drayage service would best serve the goods for delivery to the next leg of the route. Furthermore, a freight container may need to be transferred via drayage service many times during transportation. Each service category addresses a different aspect of the cargo. The allocated driver may transport the goods a few hundred feet to a waiting vehicle or convey them a few miles to a warehouse near the port.
Drayage service is the connection in the whole supply chain, whether the freight moves from truck to rail, ship to the warehouse, or any other combination. Consider drayage to be like the support crew for a marathon runner; it makes sure the freight makes the distance.
Professional Drayage Services for Intra Carrier Drayage
In a nutshell, drayage and intra carrier drayage are components of imports and exports or intermodal shipments. A drayman picks up a container and chassis from a depot, loads it at the shipper, and returns to the port or railhead for shipping. Its success is dependent on your connection with the carrier, which is one of the reasons Carroll Trucking is so effective in drayage. Contact us to see how we can help with all your shipping solutions.